Shopping Cart
Your Cart is Empty
There was an error with PayPal
Click here to try again
Thank you for your business!
You should be receiving an order confirmation from Paypal shortly.
Exit Shopping Cart
 Building the loyal following and the client list is no easy task in the Interior Decorating and Design business or any other type of business, it takes many years of hard work, dedication, perseverance and good team work. 
 Here at Century Glass and Interiors we have been doing just that, working hard and earning the trust from our clients. We have been creating beautiful home interiors since 1984 and are still continuing to work the same way after all these years.
 We are very dependable, creative, responsible and affordable.
 One stroll through our Showroom is all you will need to be convinced that we are for real and that we are very proud of what we do and continue to enjoy it after all these years.
Our philosophy has always been the same,we must work hard and continue to create beautiful home interiors with the utmost attention to the detail. Interior Decorating and Design is our passion, one must love what they do to be happy and successful, we have achieved that and are still excited and dedicated as we were in our early years. Interior Decorating by Maybritt is an easy and fun way to enhance the beauty of your home, her approach is very different as she is always fully engaged in the process, from start to finish and always completes the project on time as promised and agreed by her clients.Here at Century Glass and Interiors we will always work the hardest to exceed your expectations and to keep you as our friend and client. From fine furniture , chairs, tables, sofas, rugs, art, decorative accessories, custom bedding by Maybritt, custom draperies to any kind of glass for your home and the best glass ever for your frameless glass shower doors and enclosures, the ShowerGuard glass, we have it all here under one roof to complete any  home decorating request. We invite you to visit our Unique Showroom @ 2007 Hwy 90 A, Missouri City, TX 77489 or call us @  281 499 9570.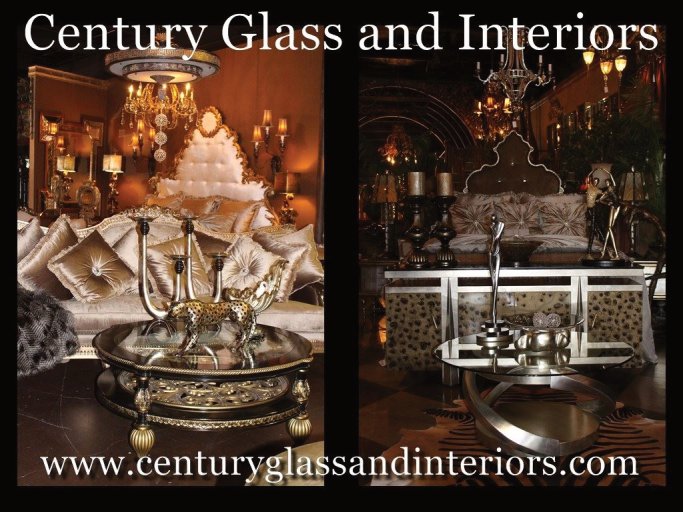 Thank you for your support.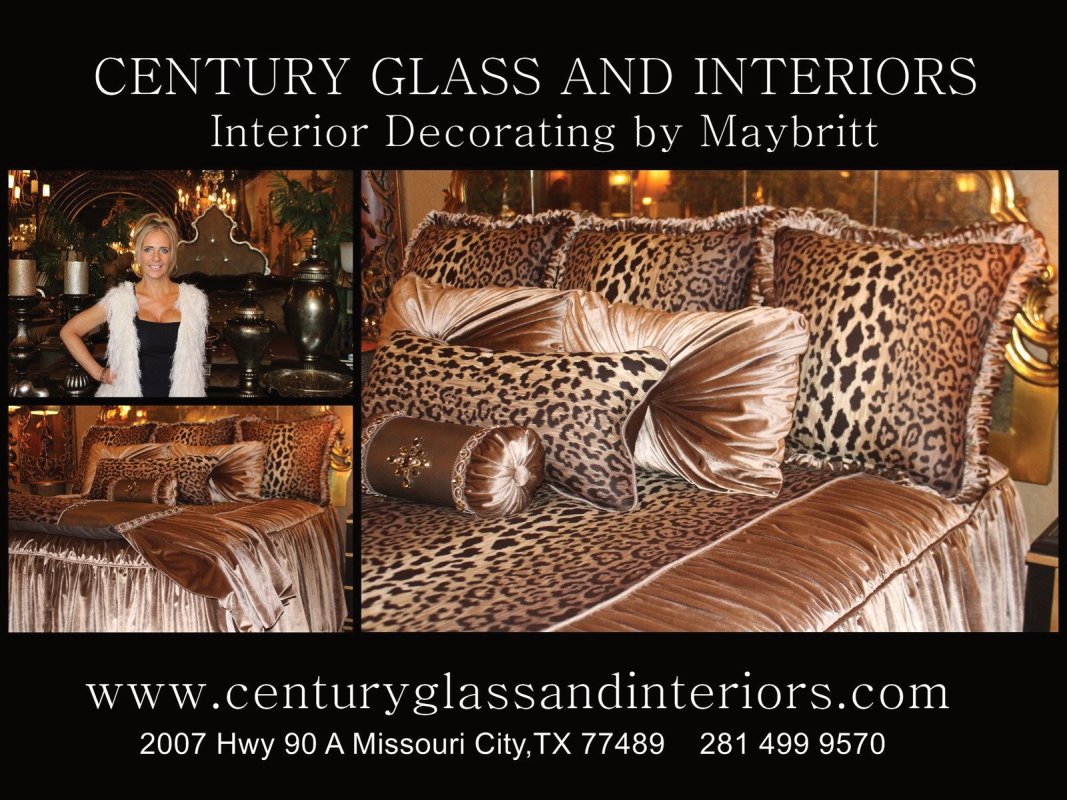 Interior Decorating is a crucial and important part of enhancing the beauty of your home. 
Here at Century Glass and Interiors we offer complete home Interior Decorating Service, that always starts with the consultation with our decorator.
 We also offer The  Complete Home Glass Service. 
For the best in glass,mirrors and Frameless Glass Shower Doors and Enclosures visit our new Glass Shower Door Showroom. 
We are an Authorized ShowerGuard glass dealer, the best glass for your doors.
We have just about everything here in our  Showroom  to complete your home interior decorating project.
We are creative, different and dependable.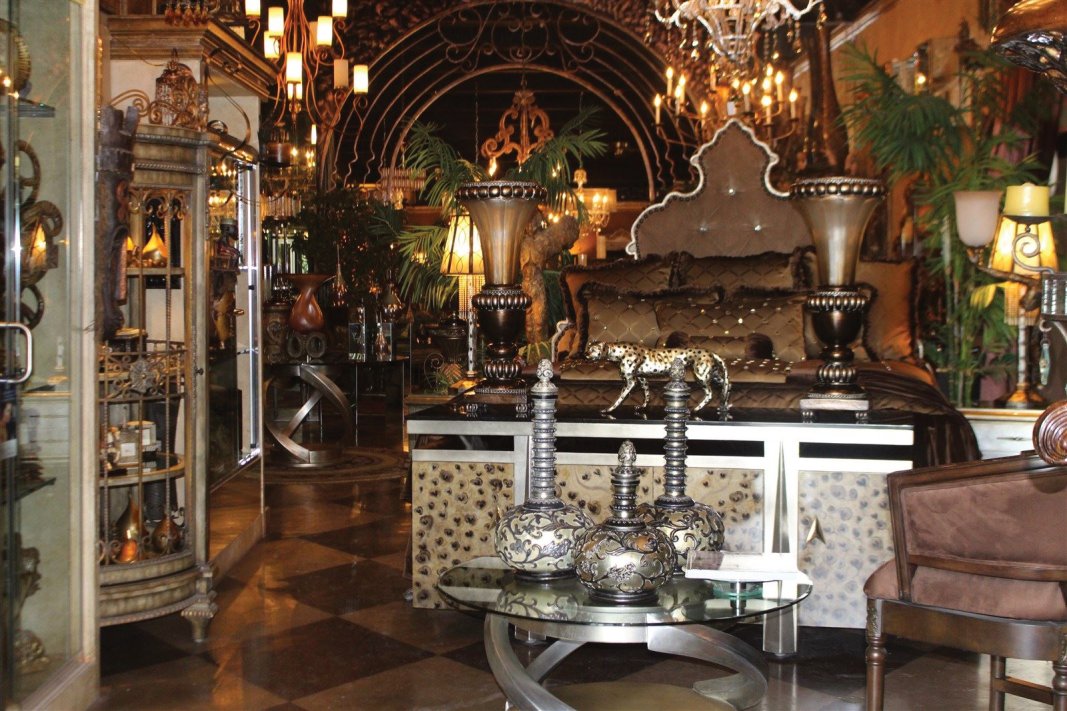 Custom Made Bedding, Draperies and Interior Decorating by Maybritt...
                                                                                                                                                                                                                            www.centuryglassandinteriors.com
                                                                                                    call 281 499 9570
 Century Glass and Interiors is entering its fourth decade of existence doing business out of the same location in Missouri City, TX. We are very greatfull to all of our loyal supporters for trusting us and giving us the opportunity to serve them all these years. Thank you, we really appreciated and we know, that without your loyal support we would not have lasted this long.
Here at Century Glass and Interiors we continue to strive and offer the best products and service possible along with the competitive price. We have earned the trust and loyalty in our community and made many friends along the way. With so many years serving the great people of our community we introduced many more products and services since 1984.
Along with all the glass products and service , we also offer complete full service home interior decorating service. We welcome all to come and visit our Showroom, where you will see the latest in the Frameless Glass Shower Doors , all on display for you to see, touch and operate before you decide to buy. Our Unique Interior Decorating Showroom has the offerings for everyone and many different styles. We have been creating beautiful home interiors since the 80s. Our creative Decorating and Design Team is very capable to turn your home into the warm ambiance that you have always wanted, one visit with us will convince you, that you are dealing with the incredibly passionate and responsible people. 
We are open from Monday to Saturday 8:00 am to 6:00 pm.
 All Home Interior Decorating consultations are by appointment only, call 281 499 9570 or email us at
[email protected]
                                                                    Century Glass and Interiors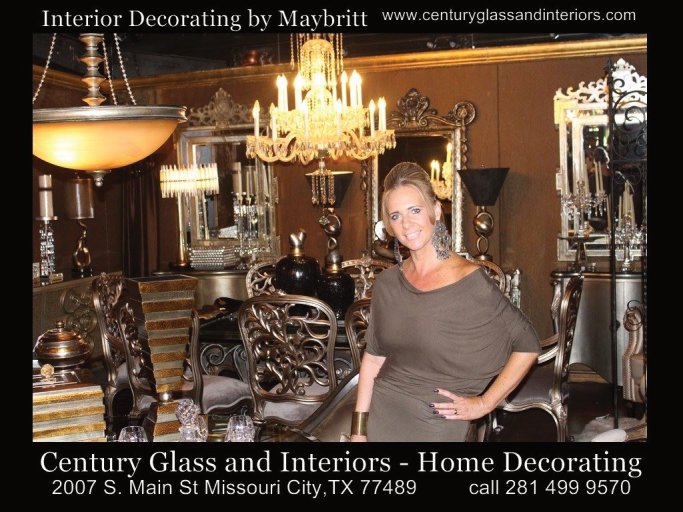 2007 South Main Street
 Missouri City,TX 77489
 www.centuryglassandinteriors.com
 We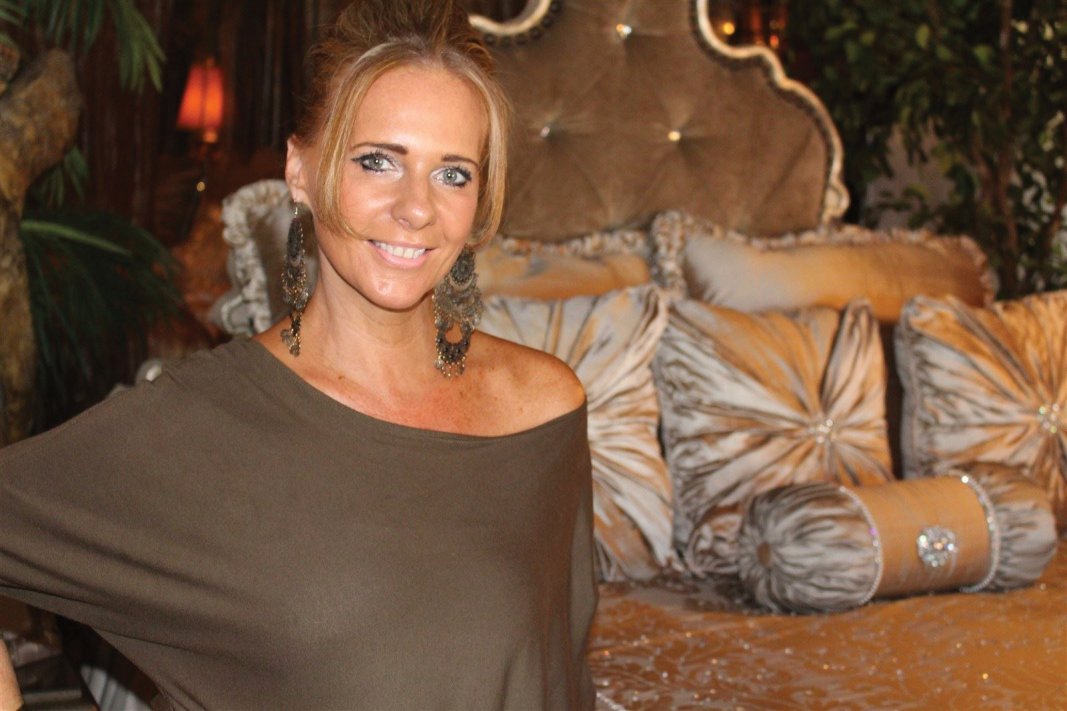 Interior Decorating is our passion. One visit to our Unique Showroom and you will be convinced that we are for real, no gimmicks, no hype, just a beautiful Interior Decorating Showcase for every lifestyle. We have been creating beautiful, functional living spaces for many years. We invite you to come by, no pressure, visit with us and see what we are creating. Over 90 % percent of our jobs are referrals and repeat clients. For your next home interior project call or visit us. Our Showroom is open Monday to Saturday from 8:00 am to 6:00 pm.

 Century Glass and Interiors is always ready to assist you,we have been located at 2007 S. Main St in Missouri City,TX 77489 since 1984. 

Interior Decorating Consultations are by appointment only...

 Please call for details 281 499 9570.

 

Century Glass and Interiors is also an Authorized ShowerGuard Glass Dealer , we custom make and install Frameless Glass Shower Doors and Enclosures with many different types of hardware and it is all installed by our own Installers, all work guaranteed.

 Visit our Showroom and see our Shower Door Glass Displays.

 

0

/